Today we look at what's going to be one of the hotter notebooks probably for the year this is the late 2013 addition Mac Book Pro 13 inch, now that means retina because they're doing away with a non retina displays.
Short Specifications:
Screen: 13.3-Inch
Processor: 2.4GHz dual-core Core i5
Graphics: Intel Iris Graphics
Ram: 4 GB
HDD: 128 GB SSD
Review
Apple MacBook Pro Late 2013
Today we look at what's going to be one of the hotter notebooks probably for the year this is the late 2013 addition Mac Book Pro 13 inch, now that means retina because they're doing away with a non retina displays.
Apple's latest generation MacBook Pro 13-inch they've dropped that word retina that from the product title but this is indeed a Retina Display.
Just this week they announced the new Macbook Pro 13-inch and 15-inch models ,and you'll notice that all the non retina miles are gone except for the base model 13 Inch. You can still get non retina 13-inch for now, but it's only a hundred dollars cheaper so honestly why would you do, it has last generation CPU uses spinning hard drive all that kind of things.
This one heare is all the goodness in the retina but a lower price than it used to be and we always had issued the price on the thirty nation we got inside now it's not such a bad value at all. Actually when you get here you get a 13-inch Retina Display 2560 by 1600 pixels very very sharp, intel haswell inside and here's an important point and this really will make a difference for those you do very computing intensive tasks.
Instead of the ultrabook ULV or now called ULT CPU using here we have full mobile CPU as other ones are usualy used on bigger laptops. I mean that your average 15 inch laptops in the 17 inch laptop a rather than a little skinny ultrabooks. So more computing power inside your relative to ultrabooks with ULV an ULT haswell CPU's inside now includes the MacBook Air. Thats what you're paying some more money for this one is $1299 the Mac Book Air has a lower resolution display an ULV and ULV use again and that one is cheaper.
Obviously couple hundred dollars more gets you a good bit. Now speaking about the Mac Book Air this is not a very heavy machine either 3.46 pounds, I'll call it three and a half pounds it is a half pound heavier than the MacBook Air half pound heavier than most ultrabooks on the market, they are tending to be about three punds. So it's not much more, to be honest I do noticed the weight difference when I pick it up though it had been carrying a MacBook Air or whatever other windows Ultrabooks, you do notice to have pounds not quite as "oh my god it's so feather light I can't believe it". But still it is only three and half pounds and it's not really heavy.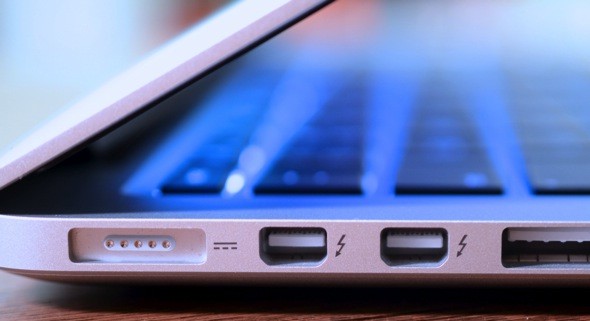 So for those of you who really wanna an ultrabook to you do massive Excel spreadsheets with 10,000 rows, view and edit HD video that's our thing this becomes more tempting becasuse it has more processing horsepower. We also have Intel iris graphics inside it HD 5100 so it's not the fastest of the Intel HD Graphics but it is noticeably faster than the Intel HD 4400 used on ultrabooks with ULT CPU inside and even faster than the 5000 graphics.
It's about comparable to a lower-end dedicated GPU maybe like nVidia GT 630 or 640 to give you an idea the mobile and versions of those. So it is enough to give you a little kick to play something like Diablo or World of Warcraft 3.
Typical other Mac Book Pro design is pretty much the same thickness all the way around beautiful attention to detail we don't have to tell you about that. I mean the fit and finish on this is perfect beautiful aluminum unibody design.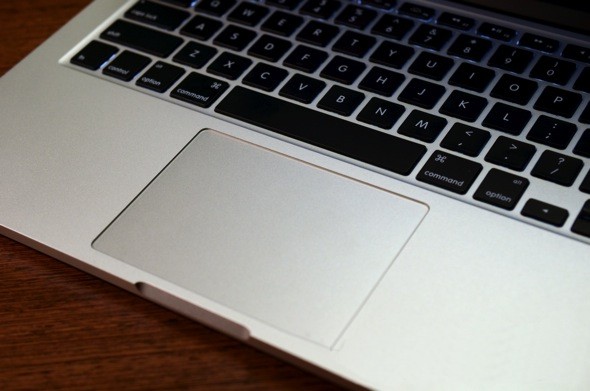 Bottom with the usual rubber feet, honestly folks there is no point in taking the bottom of this machine, because it's pretty much not repairable if you open it up, you gonna have to send it to Apple, if the batteries are glued inside for example. You could get to the SSD Drive you want to replace it now thats uses of the new PCIe with the gumstick form factor SSD those are pretty hard to find right now. RAM is soldered on board. The airport wireless card 802.11ac Broadcom chips inside, that is socket and that is upgradeable to. So typical again of ultrabooks there is not allowed to get to the battery in fact a little bit more obnoxious. I have noticed that it actually have some air vents, that's niceee Apple finally make concessions to design and realize that these machines do need to breed, so not just the vents right where the display meets the body of the laptop anymore, little extra.
Generaly speaking it's pretty quiet it's metal in the bottom you can feel some heat if you doing something like I was playing Diablo 3 at it's not gonna fry your skin of if you are wearing shorts but you probably wouldn't want it against your legs if you are doing something computing intensive. If you just using web browser and email no it's gone not gonna get warm. Fan is typically hardly on and that's normal for Apple these days they really don't like to run the fans unless they have to. Again if you doing something like Diablo 3 or some massive computing kind of endeavor and then the fans will kick on particularly if you are doing 3d gaming you'll hear the fan blowing just like you will on any laptop.
Key specifications:
Mac safe two pair of conectors, we have two Thunderbolt 2 ports now, even faster, USB 3.0 port, combo mic headphone jack, on the other side we have another USB 3.0 port, full-size HDMI port and a micro SDXC SD card slot. So kind of typical ports for apple.
When you lift up the display you'll got a little place to grab on it and you will see inside the usual apple great trackpad nice large glass trackpad does multi-touch gestures very smoothly you know they make the best as long as you're running Mac OS. So this is the important part to get because I know a lot of you gonna say what about this compared to the Samsung ATIV Book 9 Plus the Acer Aspire S7 Windows machines. What operating system do you wanna run Mac's are awesome when you are running Mac OS 10 by the way the ships at Maverick's the latest greatest operating system 10.9 from apple.
Great machine to buy if you wanna run Mac OS 10 or if you can use parallels in just occasionally visit the world the Windows arent maybe more than occasionally but for those people who just want to permanently boot camp into Windows on these I would said just go get Windows machines to start with.
Usual awesome keyboard, backlighting, ambient light sensor works well, but you can adjust the backlighting levels. Always Apple makes really nice responsive keyboards. And the crown jewel of this machine is off course this stunning Retina display right here, ever lovely, we are still looking to see is there any screen burning issue like I have with my first-generation retina 15-inch so far haven't seen any and it does take some time to get images that temporarily burn and again this is a temporary problem that does happen. This is a lovely display, now the retina displays have always been quite good but in terms of a color accuracy 100% of sRGB.
As I mentioned this comes at OS 10 Maverick's which is the latest and greatest and as you know apple is now made OS updates free so never have to worry about that again. And we have the baseball here to $1299 model with 2.4 gigahertz Intel Core i5 CPU with turbo boost 4GB of ddr3 RAM on board at 120GB PCIe SSD and that memory is DDR3L memory which haswell requires. Specifically the CPU's the i5-4258U and again it has Intel iris 5100 graphics. At a 28W CPU is opposed to lower wattage ultarabooks CPU and that's where you're getting your power from.
There is no internal optical drive Apple doesn't put that on their retina Mac's and it seems to be disappearing from laptops right and left unless they're fairly large, but you can use an external Thunderbolt, USB you name it optical drive at this if you need to install software from CD's or access anything that's on the CD. Mac OS does not natively support blue ray. The battery that is sealed inside this unit is 71.8W/h lithium ion polymer battery,  and apples is good for 9h thanks to haswell they've actually increased the battery runtime up from the old 13-inch retina machines.
And that's the late 2013 13-inch Mac Book Pro with Retina display and Intel Haswell inside and certainly it's quite a lineup for the money now.
Specifications
Processor
CPU: Intel Haswell Core i5
Number of Cores: Dual-core
Clock speed: 2.4 GHz, Turbo Boost up to 2.9 GHz
Cache: 3 MB shared L3 Cache
64-bit Computing: Yes
Memory (RAM)
RAM installed: 4 GB
Max RAM Supported:
Technology: DDR3L
Speed: 1600 MHz
Slots Qty.: Unknown
Empty Slots: Unknown
Features: Unknown
Video
Graphics controller: Intel Iris Graphics
Graphics memory: Unknown
Features: Thunderbolt digital video output (native Mini DisplayPort output); compatible with DVI, VGA, and dual-link DVI output using optional adapters
Storage
Hard Drive: 128 GB
Interface: SSD SATA
Features: Unknown
Display (Screen)
Screen size: 13.3 inches
Max resolution: 2560×1600 pixels
Widescreen: Yes
Image aspect ratio: 16:9
Features: LED-backlit Retina display with IPS technology
Battery
Technology: Lithium ion polymer
Capacity: 71.8W/h
Run Time (up to): 9h
AC Adapter: Unknown
Features: Integrated
Other devices
Optical Drive: No
USB ports: Two USB 3 ports (up to 5 Gbps)
eSATA: Unknown
ExpressCard Slot:
Audio:Stereo speakers; support for Apple iPhone headset with microphone; support for audio line out (digital/analog)
Headphone/microphone: Dual microphones; headphone port
HDMI: Yes
VGA port: Unknown
S-Video: Unknown
Webcam: HD 720p FaceTime camera
Input: Unknown
Wireless: 802.11ac Wi-Fi wireless networking (802.11a/b/g/n compatible)
Bluetooth: 4.0
Network: Unknown
FireWire: Unknown
Card Reader: SDXC card slot
Features: Two Thunderbolt ports (up to 20 Gbps), MagSafe 2 power port
Dimensions & Weight
Width: 12.35 inches
Depth: 8.62 inches
Height: 0.71 inches
Weight: 3.46 pounds
Images
Video
There is no video available
If you have any more informations about this product you can contact us.