Hi all, this is review of ASUS Fonepad Note FHD 6, this obviously is the ASUS attempt to attract attention in a so-called tablet class devices.
Short Specifications:
Screen: 6-Inch
Processor: 2.0 GHz Dual-core
Graphics: Intel Clover Trail Plus
Ram: 2 GB
HDD: 16 GB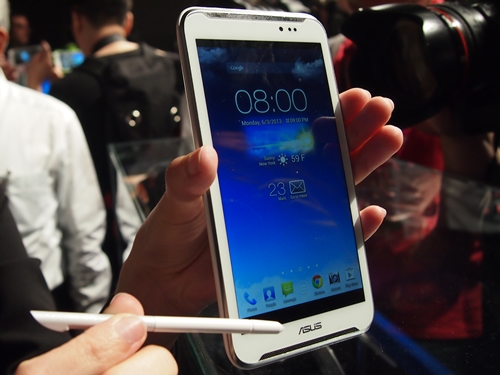 Review
ASUS Fonepad Note FHD 6
Hi all, this is review of ASUS Fonepad Note FHD 6, this obviously is the ASUS attempt to attract attention in a so-called tablet class devices, with their bigger usually more than 5-inch display and phone capabilities they are supposed to make this smart phone experience much more useful in terms of productivity and why not in your entertainment experience.
The name on this phone gives you a clue about the screen size 6 inch capacitive touchscreen with averagely think profile of the tablet and pretty white bezel around the edges especially on top and bottom side due to the sound speakers place on front.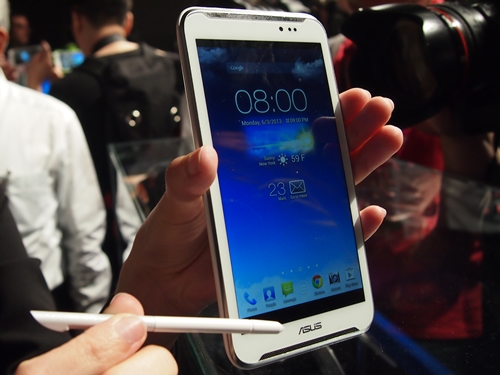 Our test unit had white shiny surface it might be a fingerprint magnet but this is not easily visible thanks to the bright color, you can choose the black version of course where the fingerprints might be a problem.
The back panel is not removable therefore the batteries is not accessible. Small-cap gives you access to the micro SIM and micro SD card slots. The devices all made of plastic but it is a bit heavy even for its size. This is probably because it have the larger battery capacity and the sound speakers, however the size and weight is the only thing you'll need to get used to, apart from that everything else looks and feels great to build quality is nice and solid and the screen looks fantastic.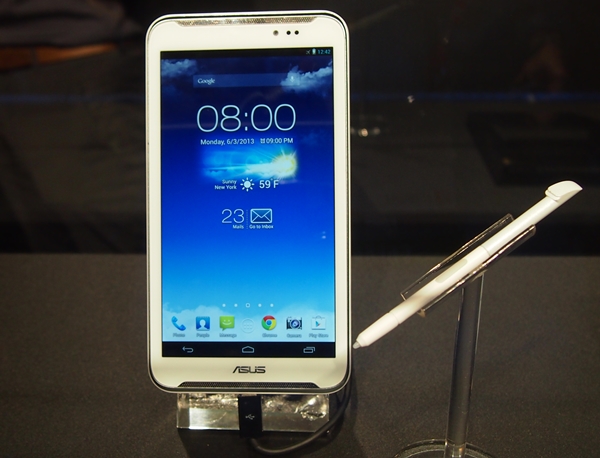 We have a full HD resolution here providing excellent pixel density. When it is about colors and viewing angles for me it's about IPS or not. The Phone Pad Note 6 is equipped with super IPS display which means nothing but a great visual experience.
The device is powered by the latest intel mobile platform which impressed me with the fast in smart Android experience. No doubt this device is made for productivity and so its hardware is, capable of playing even some heavier android games. ASUS are very proud of the graphics provided by the Intel Clover Trail Plus platform inside. But in addition to the power phone pad note 6 brings everyday productivity as well.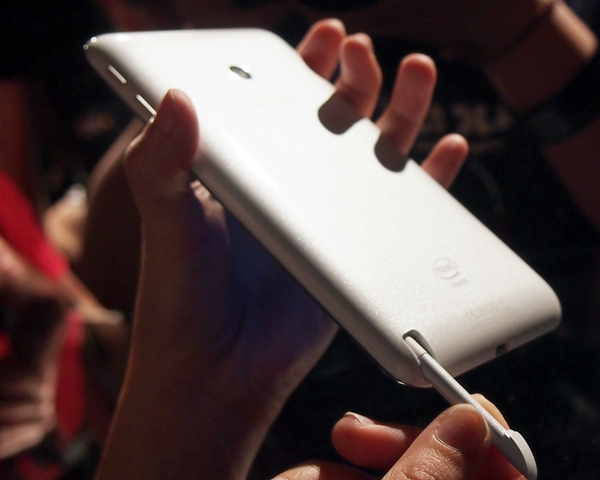 We used to see stylus attached to such devices in Phone Pad Note 6 is not an exception. Accompanied by the necessary software it allows you to get the most up the large screen in hardware inside taking notes or editing pictures taken by the camera or just print-screen is not the problem. One very nice idea I found was the small software tool notifying you when the stylus is detached and inactive for too long, it gives you an idea of its latest active location.
The sound was more than convenient for the size and the tablet. As I already mentioned it is a dual speaker equiped much like the most of the new ASUS tablets. The headset in the box was another nice surprise with its deep and clear sound. The battery life, also great, the capacity of 3200 mili amper hours should be enough to take you long after the working day is over. Above all the price of ASUS Fonepad Note FHD 6 is a promising one, it is expected to be way cheaper than the Samsung Galaxy Note 3 which might be a device of premium class but it almost doubles the price on the ASUS Fonepad Note FHD 6 if purchased unlocked.
Specifications
CPU: Intel  Z2580
Number of Cores: Dual core
Clock speed: 2 GHzScreen size: 6 Inches
Screen features: screen is a Super IPS+ LCD with a Full HD
RAM installed: 2 GB
HDD: 16 GB
System: Android 4.2.2
Camera: 8 MP rear, 1.2 MP front
Camera Flash: No
Stylus: Yes
Images
Video
There is no video available
If you have any more informations about this product you can contact us.