Acer Chromebook C720 Review
Today we're going to take a look at the newest from Chromebook from Acer "Acer Chromebook C720". "Intel Haswell" inside makes it more powerful than the average Chromebook but it is still very affordable $249 based on prices at "Best Buy Amazon" and places like that. Acer C720 is latest Chromebook but pretty much Samsung and Acer have been the two big players in Chromebook of course Google had their own branded "Google Chromebook Pixel" which is a much much much more expensive item. Most products are affordable things and at that this is one of the most affordable at $249 at this moment, this is a new generation Chromebook this is this C720 while there are places in the C710 its bit thinner and so they lighter, about a quarter pound lighter. So it's always nice to see improvements in portability 11,6″ design right here, genuine plastic everywhere (what do you expect, these are the new netbooks so it'll be doing a lot of plastic here, but it's rugged enough you'd probably survive being used by your child, your more responsible child anyway). Take a look on the side here we can see we have USB 3.0 port, our combo audio jack, full-size HDMI port, power connector. The nice thing about the full-size HDMI here isn't just that you have that tort which is conveniant but this actually has a more powerful CPU inside this is intel haswell generation and don't get too excited this is still a Celeron model CPU those who follow intel on all know thats are always a "low man on the totem poles" as 1.4 gigahertz dual-core, no turbo boost here, but still up from last generation non haswell that we had in the previous model and that one was collected 1 gigahertz so you definietly geting improvements here.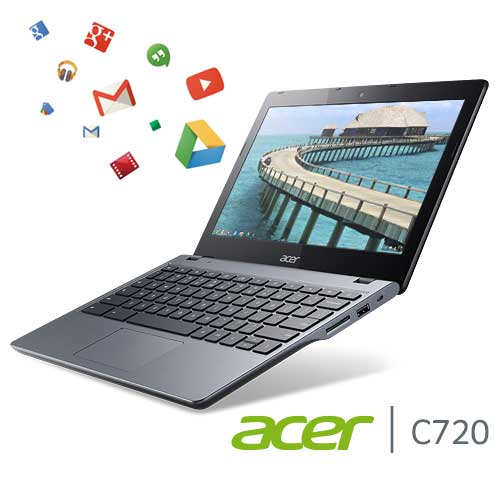 Intel HD integrated graphics on this, again don't expect too much for the money this is not about high inspect, this is about easy functionality for basic stuff that you gonna do, like web-based things, email all that sort of thing, at a minimal price but the reasonably sturdy design. USB 2.0 port right here lock slot right there and a full-size SD card slot. we do have fanned holes here and on the bottom says this is not a mobile kinda CPU like the Samsung Exynos used in some other Chromebook models regular old PC style CPU so fate is gonna come on occasion is not going to be referring the latter anything like that still a pretty low-power mobile CPU in there and these are our stereo speakers here with the grills on the bottom. When we open it up and take a look inside we have instant on resume from sleep here and boots very quickly if you ever really fully shut it down which is not too much even need to do. Mate display inside, that's a good news, 1366 by 768 resolution which is kind a standard resolution among smaller netbooks these as and we're not going to complain it is a TN panel that means that you do have to do some angling back and forth to get the best viewing angle, but it is improve from first-generation Chromebooks which had absolute visual displays also they were pretty neat idea but the display is really held them back. So well this may not be fighting the IPS panel & HP is in their Chromebook 11 it's not a bad idea. I'm seen actually worse on 500 dolar notebooks viewing angles will diminish not as much from the side that you can see how quickly they go now the displacer on obviously is glossy you can see reflections on black shiny plastic but that really shouldn't bother you folks very much.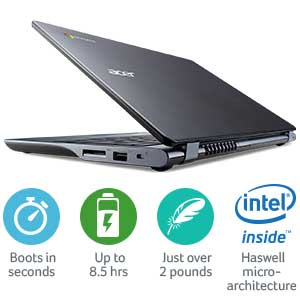 Keyboard  is nice large keyboard given the fact that this is a very small device. Trackpad as chromebook trackpads works fine it supports two finger scrolling things like that it's so far behaved pretty well for me. You can use USB mice and keyboards with this, if you wanna do that, that's pretty easy most supported even those wireless ones that come with RF transmitter generally will work with this. Printing with chromebooks is another thing to get into Google's cloud printing service you can just plug in your printer install drivers like you a for Windows are mac/pc. So what makes c720 a cool chromebook its more powerful than most now granted you don't need a super duper lot of horsepower for operating system Chrome OS it basically is just cool web browser now this is a bit more going on than just a web browser pretty much everything they do is based on the Chrome web browser that's included. That how I do noticed some performance improvements in the working on long documents using Google Docs something like that we're compatible document and we have a 1.4 ghz, as I mentioned, fourth-generation intel haswell Celeron CPU inside dual-core 4 GB ddr3 RAM most chromebooks had 2 GB RAM so that means you can get more apps running at once or more well tabs shall we say in this case running at once. So you got the image editor running in one you've got Word or Excel document open in on another while the music player going to get you to play you will have enoug RAM to do that without worrying about slowing it down.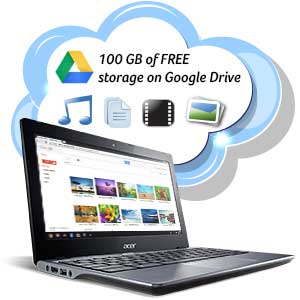 16 GB SSD Drive inside, you don't get much storage generally speaking though there have been a few chromebooks they've had 320 GB spinning hard drives by Acer made one of those. but the operating system doesn't really require much space there's i you supose to be working primarily on the cloud reading stored up in the Coud. You can use the SD card slot augment storage, off course you can use USB flash drives to. It has dual band wifi 11 BGN this small does not have 3G or 4G, chromebooks used to really emphasize using 4G, 3G that kinda thing or even the wifi and now more more we seeing offline access you can do offline Google Docs work right now, you can use a whole bunch if they call them chrome apps. Despite the relatively fast CPU and you can see here that on the bottom the battery is sealed inside. Battery life on this has been pretty good Acer claims eight-and-a-half hours usually manufactured are optimistic, and we've been saying about eight with mixed use on this so that's actually pretty good for whatsone of most powerful Chromebooks their 39-50 miliamp per hour 3-cell lithium-ion battery inside. Weight is 2.76 pounds so is pretty light pretty portable easy to carry not to think. For the price it's not that bad looking, granted again it's not as stylish as HP's new Chromebook 11 but its it's perfectly fine for the  price and for those who want the performance over the looks and the prettiness that kinda thing, well certainly makes the case for the C720. And for those who are new to Chrome OS the idea again is basic Chrome OS is the chrome web browser, it's not like at Windows PC or Mac where we have a full operating system and you can install programs EXE kinda programs on this. Everything you can do is gonna be based on things that can run inside the Chrome Web browser they have short cuts down here did things that were just a web browser itself to Gmail basically Google Docs, Google sheet, Google spreadsheet Google Play Music, YouTube player app's right here and presented in a sort of android like way.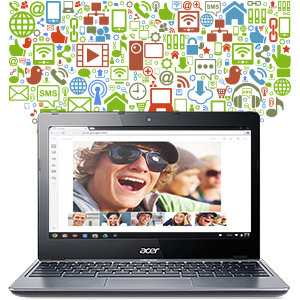 So lets say you want to add more stuff to this how do you do that you go to the Google Chrome store the we can take a look at the selections like communications, news, weather so we have Gmail offline, Twitter temblor Facebook all the usual stuff. Because this is one big web browser obviously anything you can do in a web browser you can do with this device you can go to Facebook's web page you can even go trough the office 365 site and run office 365 how are we not gonna get quite all the features here via the Chrome Web browser that included on this device. And here in the offline at section for those who worry about not always having an internet connection you can see what's available there then we very easily download again Google Gmail, offline Google Drive, pocket, Kindle Cloud Reader which will thats sort of online sort offline more games, you get the idea. So once again the pointer this is if you blog a lot if you Facebook a lot if is Google services particularly Gmail Google for doing your MS Office compatible kinda work this is the device for you. If you need to install Photoshop this is not the device for you, you can't do that here anything you can do in a web browser you can do with this device there's also a basic found manager. If we want to look at an image we better image preview and say I wanna go ahead ended I just choose the edit button and basic things cropping brightness rotation that certain stuff. So we're not talking about a Photoshop substitute right here and you may have some online counterparts image adding that you prefer, but you can work with your own documents are a flash either SD cards like anything and you can pick these things up on your own Google drive too. and you can share them pretty easily with an email as a gmail address. And since this is Google, we have YouTube as well, again you have also accessed here Google play movie. Any website that you go to that supplies html5 video also play just fine too. So that is the Acer Chromebook C720, for $249 if you need something that can get web browsing on social networking email some like office talking to work even a little bit if I do everything he can do the job. So and the new netbook from the world isn't it. Honestly it's very powerful as as these things go other than a Chromebook pixel course which is a much more expensive device getting more "horsepower" here than you do with them in a HP Chromebook 11 so it's worth a look if you're interested in Chromebooks.
Processor
CPU: Intel Celeron (4th Generation) Haswell
Number of Cores: Dual Core
Clock speed: 1.4 GHz
Cache: 2 MB
64-bit Computing: 64-bit
Memory (RAM)
RAM installed: 4 GB
Max RAM Supported: 8 GB
Technology: DDR3L SDRAM
Speed: Unknown
Slots Qty.: 2
Empty Slots: 1
Features: Unknown
Video
Graphics controller: Intel HD Graphics
Graphics memory: 128 MB
Features: Unknown
Storage
Hard Drive: 16 GB
Interface: SSD
Features: Unknown
Display (Screen)
Screen size: 11.6 inches
Max resolution: 1366×768 pixels
Widescreen: Yes
Image aspect ratio: 16:9
Features: Acer ComfyView LED Backlit TFT LCD Display
Battery
Technology: Lithium ion battery 3 cell
Capacity: Unknown
Run Time (up to): 8.5 hours
AC Adapter: 65 W AC Adapter
Features: Unknown
Other devices
Optical Drive: No
USB ports: 1 x USB 2.0, 1 x USB 3.0
eSATA: Unknown
ExpressCard Slot: Unknown
Audio: 2 Stereo Speakers, HD Audio
Headphone/microphone: Yes/Yes
HDMI: Yes, HDMI Port with HDCP Support
VGA port: Unknown
S-Video: Unknown
Webcam: Acer Crystal Eye HD Webcam
Input: Touchpad, Standard Keyboard
Wireless: IEEE 802.11a/b/g/n
Bluetooth: v4.0
Network: Unknown
FireWire: Unknown
Card Reader: SD Card Support
Features: Kensington Lock Slot, Trusted Platform Module (TPM)
Dimensions & Weight
Width: 11.34 Inches
Depth: 8.03 Inches
Height: 0.75 Inches
Weight: 1.25 kg / 2.76 lb.
There is no video available