Toshiba KIRAbook 13 PSU7FU-00X00M
Pixel Perfection: Experience the precision of PixelPure display perfectly calibrated with stunning 2560×1440 native resolution. Uses 3.7 millions of pixels for exceptional clarity and resolution 90% more than the standard HD
displays. A picture so beautiful you will not be able to take your eyes – or Your hands – off of it.
Honeycomb Reinforcement: Designers was inspired by one of the greatest natural structures, the rigid and efficient reinforcement of the honeycomb. The hexagon core is an elegant solution that creates balance in design effectively adding strength without adding weight.
Touchable: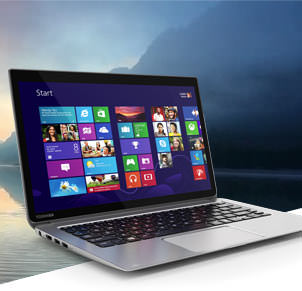 KIRAbook is a touch screen fingerprint-resistant, it isperfectly paired with the intuitive nature of Windows 8. Housed under Corning Concore Glass, it's a touchscreen without tradeoffs.
Symphonic Sound: being immersed in sound with superior craftsmanship and sound quality of the Harman Kardon stereo speakers. DTS Studio Sound plunges in natural tones and bass to create a rich symphonic audio
experience.
Durable Beauty:
Introducing AZ91 magnesium alloy which makes it pressed KIRAbook lightweight, durable and stylish. This material is 90% stronger than the AI2017 aluminum alloy used in the MacBook Air  and proves once and for all there is beauty in strength.
Stabilizing Hinge:
Toshiba design team has one goal – to create aneasy to open which is strong enough to minimize touchscreen bounce back. All so you can tap, pinch, swipe to your heart's content.
Featherweight Design:
classic design requires the removal of what's not necessary. While Toshiba has started with rounding out any hard edges, crafting the KIRAbook to fit comfortably in hand. Toshiba also
redistributed and reduced the weight to start at 2.6 lbs and lowered his profile on a thin 0.7 " that the KIRAbook an airy look and feel.
Long Battery Life:
Toshiba equipped the KIRAbook with high-performance KIRAbook battery that provides a long life rating.
Keyboard Ambiance:
Work does not stop when the sun goes down, then Toshiba covered by a frameless LED backlit keyboard to improve the user experience in low light situations. Making it easier to work, or play, until the sun comes up again.
Cooling Efficiency:
Air Flow II technology pairs a high performance fan with multi-directional ventilation design, keeping the KIRAbook running cooler for longer even if things at work are heating up.
Adobe and Norton software free:
The KIRAbook experience begins once you open it with a complimentary bundle of Adobe Photoshop Elements 11, Adobe Premier Elements 11, Norton Anti-theft, Internet Security and up to 25GB Online Storage Backup. You'll have everything you need to do everything you want.
Platinum Service & Support:
Peace of mind is an integral part of the KIRAbook experience – 2 year limited warranty / 24/7 support / dedicated US based Toshiba certified master agents / Rapid repair
Processor
CPU: Intel Core i5 3317U
Number of Cores: Dual-core
Clock speed: 2.7 GHz
Cache: 3 MB Cache
64-bit Computing: Yes
Memory (RAM)
RAM installed: 8 GB
Max RAM Supported: Unknown
Technology: DD3
Speed: 1600MHz
Slots Qty.: Unknown
Empty Slots: Unknown
Features: Unknown
Video
Graphics controller: Mobile Intel HD graphics
Graphics memory: 64MB-1664MB
Features: Dynamically allocated shared graphics memory
Storage
Hard Drive: 256GB
Interface: mSATA
Features: Solid State Drive (SSD)
Display (Screen)
Screen size: 13.3 inches
Max resolution: 2560 x 1440 pixels
Widescreen: Yes
Image aspect ratio: 16:9
Features: PixelPure LED backlit
Battery
Technology: 4 cell Lithium ion
Capacity: 52Wh
Run Time (up to): 6 hours
AC Adapter: 45W (19V 2.37A) 100-240V/50-60Hz AC Adapter, Dimensions (W x H x D): 3.7 x 1.6 x 1.1¨ (94 x 41 x 28mm), Weight: Approx. 0.40 lbs.
Features: Not user replaceable
Other devices
Optical Drive: Unknown
USB ports: 3 USB ports 3.0 ports (1 with USB Sleep and Charge)
eSATA: Unknown
ExpressCard Slot: Unknown
Audio: harman/kardon stereo speakers, DTS Studio Sound, Dual microphones with Beam Forming technology
Headphone/microphone: Microphone input port with Toshiba Sleep and Music and headphone output port [shared combo port]
HDMI: HDMI-out
VGA port: Unknown
S-Video: Unknown
Webcam: HD Webcam
Input: Frameless LED Backlit Keyboard, Clickpad pointing device with Windows 8 Gesture support
Wireless: Intel Centrino Wireless-N 2230, 2×2 BGN10
Bluetooth: Bluetooth version 4.0
Network: Yes
FireWire: Unknown
Card Reader: Unknown
Features: Unknown
Dimensions & Weight
Width: 12.44 inches
Depth: 8.15 inches
Height: 0.70 inches
Weight: 2.9 lbs.
There is no video available